We're delighted to announce that Apurva Ashok has been appointed as the new Executive Director (ED) of The Rebus Foundation. Former ED, Hugh McGuire, remains on the Board of Directors.
---
Apurva joined the Rebus team in 2017, and immediately had an impact on our work, helping with the publication 30 OER while completing her Masters in Publishing at Simon Fraser University. Those OER texts included award-winning texts like Blueprint for Success and A Guide to Making Open Textbooks with Students. Since then, Apurva has navigated a number of roles and organizational pivots at Rebus.
Over the past year and a half, I've slowly been stepping back from Rebus – with my focus shifting to my parallel work in alternative educational publishing at Pressbooks. Further, Rebus recently shuttered its work on Rebus Ink (a reading platform/software project), to focus fully on Open Education. In parallel, Apurva has taken on leadership of Rebus' Open Education program seamlessly. So the time is right for me to step down as Executive Director, while remaining on the Board to help contribute, I hope, to the exciting directions of The Rebus Foundation as Apurva takes on the role of Executive Director.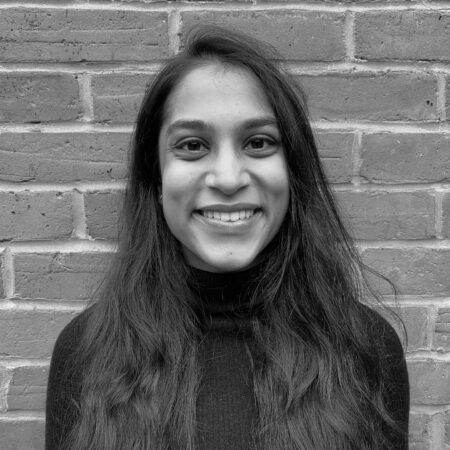 Over the past few years, Apurva has lead the shift towards our unique professional development programming in Open Education publishing, serving as Director of Open Education at Rebus. She has developed programming, establishing the Textbook Success Program and OER Webinar Series. Through these avenues, Apurva has delivered learning sessions helping teams of educators (authors, librarians, administrators, and more) from scores of institutions. She has spearheaded marketing efforts, organized community calls, and co-hosted the Office Hours series with the Open Education Network. Apurva has served on advisory committees and working groups bringing a focus on diversity, equity, and inclusion. In 2020, Apurva received an Open Education Award for Excellence from OE Global for her contributions to the field.
Apurva has, in short, been a tireless and dedicated member of the OER community for years. Anyone who has worked with Apurva – whether as a colleague at Rebus, or as one of the many faculty, librarians, and administrators she has supported – will know that Apurva brings a clarity, knowledge, and dedication to the work that is hard to match.
Born and raised in India, Apurva has a unique understanding of academic systems in the Global South and the power of education as a tool for empowerment. She has studied, worked, and lived across two continents, and spends her time primarily in Canada. Apurva's global background informs her work, the teams she leads, and her interactions in the field.
As a leader, Apurva has championed culture change at Rebus. Jördis Weilandt, Assistant Program Manager at Rebus Community notes: "I loved my first year of working closely with Apurva online and I am so grateful for what emerged in our time together. Our enlivening work conversations traversed positive change in different systems and on multiple continents; it incorporated intercultural learnings, brave ways of liberation, and ideas for intentional growth of our organization. As part of the Rebus Community core team, I got to see how Apurva's heart-centered care, phenomenal collaboration, and generous commitment to accessible and equitable open learning have provided openings to alternative paths in the present and future of higher education. I want to congratulate her on her new assignment and look forward to joining efforts that will further increase our chances of living on a planet that feels viable to more and more of us."
Apurva has fostered supportive human-first work environments that ensure both organizational sustainability and employee well-being. She brings a fresh outlook to the field and a determination for systemic change through collaborative partnerships. Apurva looks to other leaders, educators, and organizations to learn and do better — so if you'd like to share any wisdom or say hello, don't hesitate to connect with her.
This leadership change marks a significant step forward for Rebus — as the organization shifts to focus wholly on Open Education initiatives. Stay tuned for more details about our strategic plans in the coming months.
For now, please join us in welcoming Apurva into her new position as Executive Director! Post your message in our community forum or on social media.